Toning tables are stress-free, increase circulation, improve flexibility.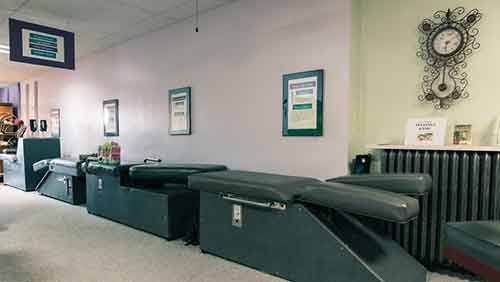 Most programs perpetuate the yo-yo syndrome and sell instant gratification. We want to introduce a lifestyle management that addresses psychological needs and emotions. Throughout the progressive process, the client will begin to reshape the body, restore elasticity, increase metabolism, increase bone density, improve sleep patterns, replace excess fat with lean muscle, and rehabilitate deteriorated and de-conditioned muscles. These steps of assisted exercise ensure a safer, slower, and more effective introduction to getting in "shape".
The tables combine the principles of physical and isometric exercises without muscle strain or fatigue. Because the machine is power assisted, it does not rely on muscle power.  Can be used by those dealing with conditions such as stroke, fibromyalgia, and other issues.  A whopping 70% of suffers from chronic lower back pain reported relief within weeks.  Also, shows improved posture and realignment of spine and pelvis.
Side to Side Table
Trims and tones muscles in the abdomen and sides of waist. Helps ease tension in the lower back.
Leg Kick Table
Gently raises and lowers your legs helping to shed inches from the midriff, waist, stomach, and hip area while strengthening the lower back.
Sandbag Table
Two pads move in rhythmic (back and forth motion) that will help to firm and tone up loose flabby muscles in the buttock area. Also, helps to strengthen stomach muscles.
Stretch Table
A single pad moves back and forth to tone upper arms, back and tummy muscles. Helps to rid body of excess fat under bra line.
Whole Leg Table
Works to slenderize the inner and outer thigh areas toning muscles and reducing "saddle bags".
Sit-up Table
Our alternative to sit-ups. Strengthens and tightens abdomen, midriff, and lower back muscles
Vibration Machine/Therapy – Improve circulation by increasing blood flow and ridding the body of excess water. Good for the lymph system. 10 min. on the machine is like an hour in a gym. Use different poses.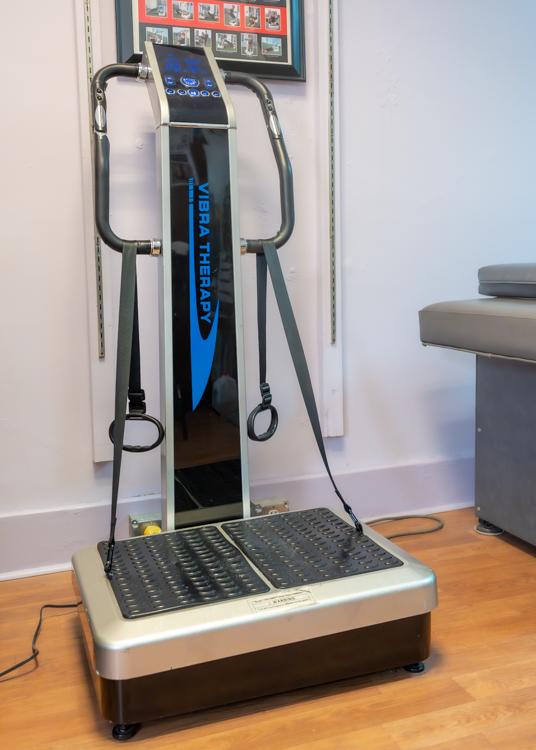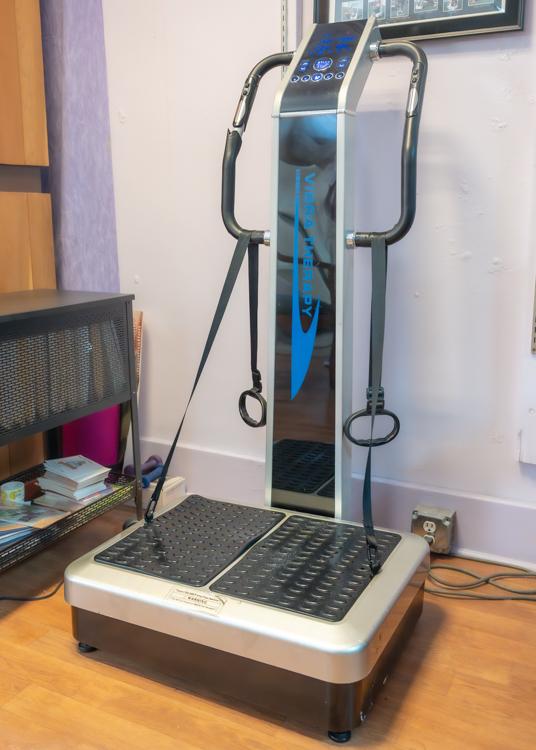 How does this exercise work?
The high repetition movements of the toning tables will tone and firm. Your muscles are not only healthier but more taut and compact.
How soon will I see results?
Most people will realize an inch loss after only a few sessions. Like other exercise programs, the best results are achieved with regular use over an extended period of time.
Will I build muscle?
No, traditional exercise produces muscle bulk that makes you look heavier, not thinner. Toning tables do not do that.
It this form of exercise good for elderly or handicapped?
Absolutely. The natural movement of the toning tables will gently increase the flexibility of stiff muscles and arthritic joints as well as firm and tone without strain or fatigue.
What do I wear?
Comfortable loose-fitting slacks and shirt or a sweat suit with socks. No blue jeans, belts, buckles, or long jewelry.
"Vanessa is amazing! She is a book of knowledge! Very kind, great listener. Her products and services are very effective and have improved the lives of myself and my family. Highly recommend. Great prices and educational classes too."
"Vanessa is awesome and very knowledgeable about her oils You must go in and see her."
"Quality therapeutic essential oils, herbs and health services, this day spa supports a healthy life style. Not feeling so healthy, stop in for a visit and talk to Vanessa. She will start you on your way to a healthier life!"
"Vanessa is very knowledgeable about natural and alternative healing methods, and she offers a wide range of therapies to help support the bodies detoxification processes. My husband and I have both had positive experiences here and recommend going if you're looking for improved health and well-being."
"Great for natural health. Salt booth, sauna and many more great service options. Herbs to your success also has an extensive variety of tea, and herbs."
Location
64 South Main St.
Nazareth, PA 18064
Make an Appointment
Self care? We care.
Open Hours
Monday - Friday: 9am - 5pm
Saturday: By appointment